Enabled/Disabled the captured window/control
Hide/Show the captured window/control
Set the captured window as transparent
Capture a window snap with menus
Windows Snapshot Grabber is a Window Snapshot Capture and Screen Capture.
Windows Snapshot Grabber can capture window to get Title, Class, Font and etc., and Windows Snapshot Grabber can set window as Topmost, Enabled or Disabled, Show or Hide window, set Transparent, capture a window Snapshot or screenshots with menus.
Windows Snapshot Grabber supports capture window snapshot or capture region screenshots. Windows Snapshot Grabber also supports delay snapshot with press and release Shift, it is real convenient.
WinGrab get window's or control's details such as Style/ExStyle, Font and Color. And it can enable or disable a window or button or other control.
Hide or set a window as transparent. Set a window as topmost. Resize a window or control for capture a snap.
Especially WinGrab can capture a window snap with menus. WinGrab can capture a control snap also.
WinGrab is very light and simply and user-friendly program. And it can remember all history of changed window. It can support task which can close some nag window or dialog automatically.
The main features of Windows Snapshot Grabber:
  Capture window or region snapshot, also with menus
  Supports capture transparent and layered window snapshot
  Capture window and highlight the captured window
  Get Handle/ID/Name/Title/Class/Style/ExStyle/Font/Color
  Enabled or Disabled window
  Show or Hide window, change window's Visible
  Resize window, move window, change its left, top, width and height
  Set window as Topmost, stay on top
  Set window's transparency, change its alphablend
  Snap window or region, and snap it with menus
  Remember the history of the changed window for undo
  Supports task that close nag window or dialog automatically
System Requirements:
  Intel x86/x64, Microsoft Windows XP/Vista/Win7/Win8/WinServer 2000-2012
The KEYWORDS of Windows Snapshot Grabber:
  capture window,resize window,enable window,disable window,hide window,set as topmost,stay on top,transparent window,window transparency,get window font,pickup color,close nag window automatically,window snapshot,screenshots,screen capture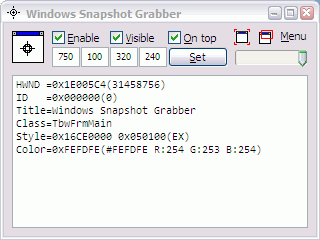 Image

Description

Drag here to capture a window or control

The color is the grabed color in mouse cursor

Details of the captured window or control

Get or set window or control Enabled or Disabled

Get visible of window or control or show/hide it

Get or set window Topmost

Move and resize window or control

Get or set window Transparency

Capture a window snap or screenshot

You can press SHIFT to snap it with menus.

Press <Shift> to delay.

Release it to snapshot!

Capture a region snap

You could select a region to snap by draging.

Press <Shift> to delay.

Release it to snapshot!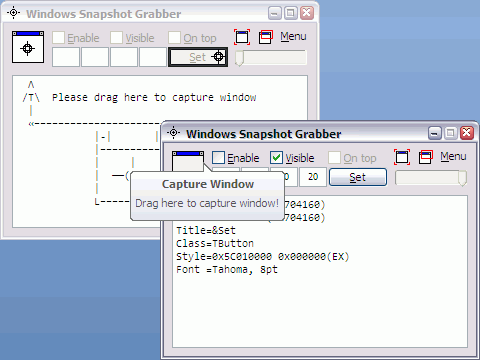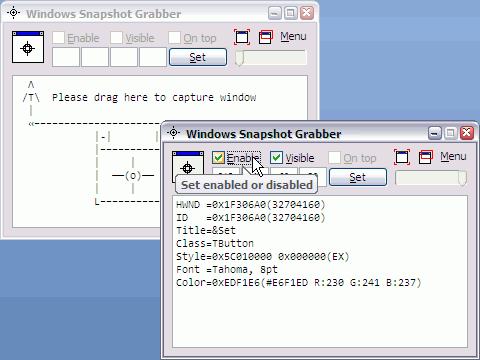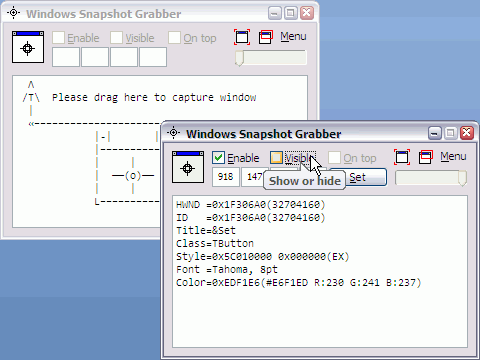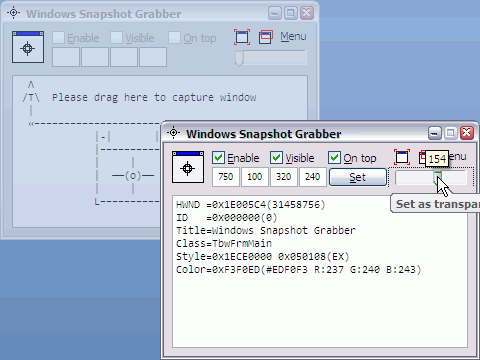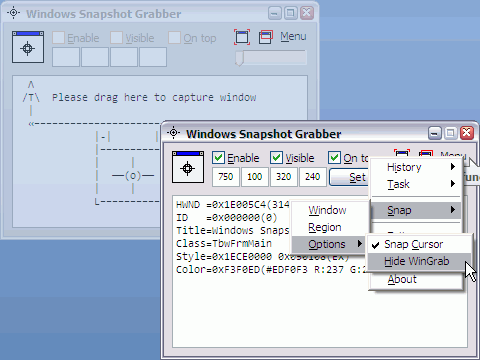 Notes:
1. You can press SHIFT to snap it with menus. Snap will be captured once SHIFT released!
2. You could capture a region snap by clicking "Snap Region" with draging.
1. You could capture a window or control to see the details: Font, Sytle and Color and etc.
2. You could move and resize the capture window or control
3. You could set a window as Topmost (Stay on top)
4. All the window or control you operated will be remenbered for your undo
5. You could add a CloseOrClick task to close a nag window dialog automatically
--------------------------
Before you use Batchwork Windows Snapshot Grabber software, please read this agreement. You may use this software only as described in this license.
1. SOFTWARE
The capitalized term "Software" used below refers to Batchwork Windows Snapshot Grabber, any updates to the software, any supplemental code provided to you by Batchwork Software, the user manual, any associated software components, any related media and printed materials, and any "online" or electronic documentation.
2. COPYRIGHT
The Software is Copyright (c) 2015 Batchwork Software. The Software is licensed, not sold.
3. EVALUATION VERSION
You may use (launch) the Software for evaluation purposes within 30 days. You must pay the license fee and register your copy to use the Software for commercial purposes. For information on paying the license fee and registering your copy of the Software, please visit http://www.batchwork.com.
4. REGISTERED VERSION
Upon enabling (or installing) the registered copy, you may use the Software on that number of computers for which you have paid a separate license fee, and the primary user of each computer for which you have paid a separate license fee may use the Software on his or her portable computer. You may also make one copy of the Software for backup or archival purposes. Otherwise, you may not copy the registered Software in whole or in part. If the registered copy of the Software is installed on a network server or other storage device, you must purchase a license for each separate computer on which the Software is used. A license for the Software may not be shared by alternating use of the Software between different computers. You may permanently transfer all of your rights to the registered copy of the Software under this license provided you transfer all copies of the Software and the recipient agrees to the terms of this license. All rights not expressly granted under this license are reserved by Batchwork Software.
5. DISCLAIMER
THIS SOFTWARE IS PROVIDED "AS IS" WITHOUT WARRANTY OF ANY KIND, EITHER EXPRESS OR IMPLIED, INCLUDING, BUT NOT LIMITED TO WARRANTIES OF MERCHANTABILITY OR FITNESS FOR A PARTICULAR PURPOSE. IN NO EVENT SHALL THE AUTHOR BE LIABLE FOR ANY DAMAGES, INCLUDING INCIDENTAL OR CONSEQUENTIAL DAMAGES, ARISING OUT OF THE USE OF THIS SOFTWARE, WHETHER OR NOT ADVISED OF THE POSSIBILITY OF SUCH DAMAGES. YOU ACKNOWLEDGE THAT YOU HAVE READ THIS LICENSE, UNDERSTAND IT AND AGREE TO BE BOUND BY ITS TERMS.
6. DISTRIBUTION
The Software may be distributed freely in its original unmodified and unregistered form. The distribution has to include all files of its original distribution. Distributors may not charge any money for it. Distributors must pay us the price for every copy of the distribution if the distribution is a full version of the Software or it includes but not limited to any serial number, registration code, license key, keygen or patch or any cracked part.
7. OTHER RESTRICTIONS
You may not modify, reverse engineer, decompile or disassemble the Software in any way, including changing or removing any messages or windows. You are not allowed to change any part of the Software. Batchwork Software keeps full rights to change any part of the Software. You may not rent, lease, or lend the Software.
8. TERMINATION
This license terminates if you fail to comply with its terms and conditions. If your license terminates, you must destroy all copies of the Software you have. The termination of this license does not limit other rights that Batchwork Software may have by law.
If you have any questions about this license agreement, please mailto:supports@batchwork.com
Copyright (c) 2015 Batchwork Software. All rights reserved.
---------------
End of document